Ride All Day
Play All Night
Owned and Operated by Riders for Riders. Why Shop Any Place Else?
There's No Place Like Las Vegas Harley-Davidson®
There is a Harley davidson motorcycleiun the back you can get your picture taken on. This is just a clothing store mainly just for tourists to get something to take home and show off. Employees are friendly and know where everything is. The store is small but take your time walking around. You will find some pretty cool little objects to add to your collection. Harley davidson motorcycle poker chips, lighters, spoons, and so much more. Dont pass this store. You will be sorry.
What a wonderful please to go love the Hartley shop love the picture they took of me on the Hartly there in the stop that was real cool to do that very nice people loved it there.
Summer League NBA Personnel for New York Knicks Stopped by for Some Acsesssories for a Bike Bought in New York and We Were Treated Like Royalty and This was Such a Great Place and the Staff (Anna & Tim ) Were Awesome
Our
Harley-Davidson®

Family

In the saddle, you breathe deeper, smile bigger, and your heart beats louder.
Featured

Bikes

Check out our featured bikes this month
Check Out Our
Bike Of The Week
Learn more about our bike of the week, the 2016 V-Rod Muscle.
Find More Videos
Shop Online At Our

Harley-Davidson Store
For all your accessories and Harley-Davidson merchandise. We carry everything from clothing to gear to accessories and upgrades.
Shop Now
Las Vegas
Harley Davidson®
We ride for the freedom. The adventure. The feeling of conquering the unknown that only comes from stuffing a few changes of clothes into your saddlebags, straddling a bike, and riding without a destination in mind.
We ride because the thrill of riding can't be matched. The wind whips around you, every bump in the road is felt, and if you want to get to your destination in one piece, you need the skills to do it. Driving a car closes you off from the world. Riding forces your senses to come alive because without them you couldn't ride. Here at Las Vegas Harley-Davidson, we understand why you ride. It's different for all of us, yet we're equally drawn to the unique world, the spirit of camaraderie, and unbridled passion that only riding offers.
No matter what you're looking for in your bike—a touring model for cross country trips, or something classic that looks great and sounds even better—we have what you need to create the best possible riding experience. You can rent different models, our service department is top-notch, and we have some of Harley-Davidson best bikes available right now in our showroom.
The heritage of Harley-Davidson—an unabashed, full-throttle American brand—is one of the reasons we chose to deal their bikes. The storied history of the company and the quality rides their bikes offer are matched by none. You'll love your Harley-Davidson because we'll make sure that you get the bike that fits you best. We'll set you up on the bike that will create lasting memories, let you chase the adventure you crave and make a splash when you show up at a biker bar or pit stop along the way.
We're grateful that you're considering Las Vegas Harley-Davidson for your motorcycle needs. We can't wait to serve you as you start your next riding adventure.
Search
Search By Keyword
Search By Filters
Saved
SAVED VEHICLES
You don't have any saved vehicles!
Look for this link on your favorites:
Once you've saved some vehicles, you can view them here at any time.
Contact
Today's Hours:
Open Today! Sales: 8am-7pm
Open Today! Service: 8am-7pm
Open Today! Parts: 8am-7pm
Las Vegas Harley-Davidson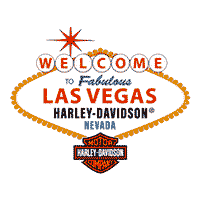 5191 S Las Vegas Blvd
Las Vegas
,
NV
Phone: (888) 218-0744
http://maps.google.com/?q=5191%20S%20Las%20Vegas%20Blvd%2C%20%2C%20NV%2089119%2C%20US%2C%20Las%20Vegas%2C%20NV%2089119