Selling Your Bike? Get an Appraisal at Our Las Vegas Harley-Davidson Dealership
Are you selling a bike? If so, bring it to our Las Vegas Harley-Davidson dealership. In addition to helping people find the right bike when they're ready to buy, we also help riders determine the value of their bike when it comes time to sell.
Complimentary Appraisals With No Obligations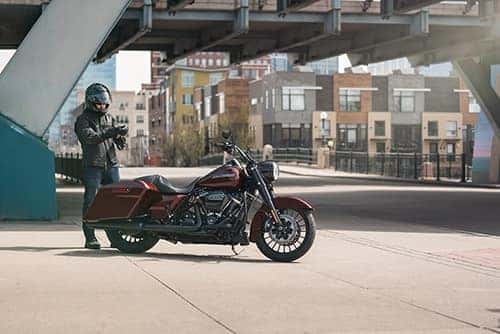 When you bring a bike to our dealership, we'll gladly appraise it at no cost to you. After our knowledgeable team examines the bike, we'll provide an estimation dollar value. Should you decide to sell the bike for our offered value, we're prepared to purchase it when the appraisal is finished.
Benefiting Bikers and the Dealership
Offering complimentary appraisals is a win-win. You're able to sell a bike without the hassle of searching for buyers and the risk of having a buyer back out. We also don't make you wade through online scams or answer calls long after the bike is sold. Just come in, have it appraised and sign the paperwork for the sale.
The whole process is short and simple. Because we have a strong reputation and know the market, you can trust the value we estimate is fair. For us, offering appraisals help us expand our large inventory of used bikes. We're constantly looking for more to put in our showrooms and thus, are always buying used Harleys.
Schedule an Appraisal at Our Las Vegas Harley-Davidson Dealership
Spare yourself the hassle of trying to find a buyer. If you're trying to sell your bike, contact our Las Vegas Harley-Davidson dealership to schedule a no-obligation appraisal. We'll give you an honest estimation of your motorcycle's dollar value. Call 888-218-0744 to get started.