Reserve a Harley-Davidson Rental for a 3-Day Weekend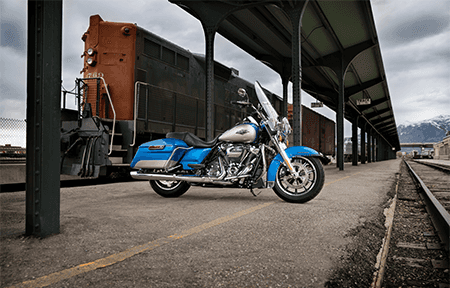 Las Vegas and the scenic spots surrounding the city offer something unlike anything else on Earth; the longer you're here, the more things there are to see. The best way to experience Sin City as it's meant to be seen is on the back of a Hog. That's why Harley-Davidson offers rental bikes to make your trip to Vegas unforgettable.
What You Need to Know about Your Harley-Davidson Rental
In order to rent a Harley-Davidson, you'll need to fulfill the following requirements:
You must be at least 25 years old.
You will need to present us with a valid motorcycle operator's license.
You must possess the ability, skill and knowledge necessary to operate the bike you wish to rent.
We will need to obtain a credit card to keep on file with sufficient funds to cover a $1,000 deposit to protect your rental.
We require all riders to wear proper riding gear: a helmet, pants and closed-toe-and-heel shoes.
What Kind of Bike Can You Choose for Your Harley-Davidson Rental?
At Harley-Davidson Las Vegas, we offer an entire fleet of rentals from Harley's 2017 collection, with 2018 models arriving daily. Here's a quick look at just a few of the bikes that are available:
Tri Glide Ultra
This three-wheel pioneering machine is meant to easily navigate through the twists and turns of the valley. This is the ultimate bike for any Harley lover who wants to see the sights in style.
FHLR Road King
This is a beautiful bike, complete with a timeless design that's built for lasting comfort during long-distance rides.
Sportster Iron 883
This bike is aggressive with a classic feel. Without all the bells and whistles, you'll get an authentic Harley ride.
Where Should You Go with Your Harley-Davidson Rental?
From the Las Vegas Strip to the Grand Canyon, there are countless scenic locations to take your bike to. Consider the colorful rocks of Red Rock Canyon, or go for something greener with a trip to Mt. Charleston's Toiyabe National Forest.
Las Vegas Harley-Davidson has everything you need to enjoy your 3-day weekend in style. We're here to make sure you have the ride of your life. Reserve your Harley-Davidson rental today, and your bike will be waiting for you when you roll up!