Read What Our Las Vegas Harley-Davidson Customers Have Been Saying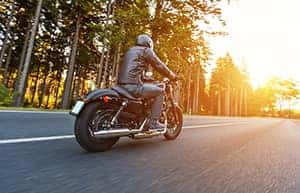 As much as you may enjoy writing them, you probably enjoy reading them even more – and for good reason.
As a savvy consumer, you know online reviews can spare you dozens of hours of research, comparisons and store visits – not to mention many wasted miles on the odometer of your Harley-Davidson.
Harley riders want to spend more time on their bikes, not researching bikes, so take a shortcut to the exuberant customer reviews you'll find on the Las Vegas-Harley Davidson website. We help explain why we have risen to become Nevada's premier Harley dealership: by offering the best products, paired with the most knowledgeable and helpful staff members in the sales, service and riding gear departments. As every Harley owner knows, the open road is waiting – and time's-a-wastin'.
Take it from Stephen in Rancho Santa Margarita, California
"I have been riding Harleys for over 20 years and have used many different dealers, and I have to say Las Vegas Harley was the best experience I have ever had. It was a 300-mile journey but worth the ride. Thanks to Brett and all the staff at LVHD. Don't compromise; go the distance. This is one journey where the destination does matter."
Consumers say online reviews carry great weight
If you could put Stephen's words on a scale, they would carry a hefty weight; online reviews, it turns out, matter greatly to discerning consumers. BrightLocal, which specializes in website strategies reports that:
Nine in 10 consumers read customer reviews to determine the quality of a business.
Eighty-eight percent of consumers say they put as much stock in online reviews as personal recommendations.
Seventy-two percent of consumers say positive reviews compel them to "trust a local business more."
Take it from David in Loveland, Colorado
"My Harley broke down on the CA/NV state line and AAA brought me back to these kind folks. Josh is an expert mechanic who even stayed 90 minutes late to finish this major job so that I could be back on the ride and feel confident and safe for the remaining 2,200 miles of my trip. At the end of the day, I rode off and was just plain thrilled that these were the guys AAA took me to."
Take it from John in Hampstead, North Carolina
"My down shifter was slipping and it was in need of repair. I took my bike to your shop. They got my bike in and did a wonderful job in a minimum amount of time. Then my bike was cleaned spotless, which was badly needed after my 2,500-mile trip. It has worked perfectly and looked great since. I have…told everyone I see how great you guys are. Plus, I got a 10 percent military discount. They truly honor vets as well as do great work."
More heavenly praise for Las Vegas Harley-Davidson
It's telling that so many effusive online reviews of Las Vegas Harley-Davidson come from out-of-state Harley riders – people who have frequented other Harley dealerships and rank ours as the best. But don't think for a minute our dealer's exemplary customer service is lost on local riders. Consider this accolade from Fred, whose 2010 bike left him with a flat rear tire – and no way to get to work:
"Cliff in service…moved heaven and earth to get my bike back ASAP. I have always had a great experience at your shop, but this went above and beyond. Thank you for all the hard work."
Find out why people rave about Las Vegas Harley-Davidson when you visit dealership at 5191 S. Las Vegas Boulevard. After sizing up the selection and service, you might even be inspired to share your experience with others.