Put Yourself in the Running to Win a Brand-new Harley!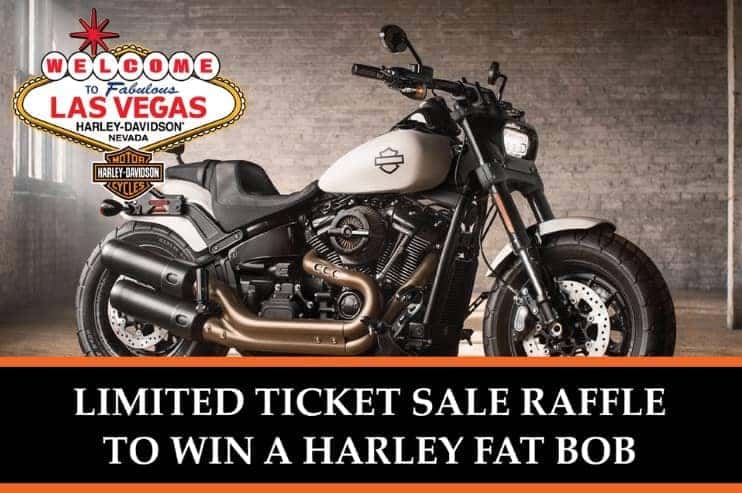 Want to own a brand-new Harley-Davidson motorcycle?
Las Vegas Harley-Davidson is partnering with Junior Achievement of Southern Nevada to host a giveaway at their 2nd Annual 4.01K Race for Financial Fitness. This event will take place on April 7th, 2019. All proceeds from the race will go towards Junior Achievement's continued efforts to provide career and financial education to students and help them realize their full potential.
Las Vegas Harley-Davidson is a proud supporter of our community, which is why we encourage anyone who is interested to sign up for the run/walk. Participants will receive a race t-shirt, finisher medal and swag bag. For information on volunteering or sponsorship opportunities, visit the Junior Achievement of Southern Nevada website.
After the race, we will select our lucky Harley winner – you could ride home on a brand-new 2018 Harley-Davidson Fat Bob! The motorcycle will also be on display at other upcoming Junior Achievements events, where tickets for the raffle will be available. They can also be purchased online.
Ticket price is only $100 and with a limited amount available, they're selling out fast. Any Harley enthusiast knows you can't get a new Harley-Davidson for $100 anywhere! So why miss out on this golden opportunity?
In order to purchase a raffle ticket, you must be a Nevada resident and at least 18 years of age. You can check out the full list of rules and regulations online. The winner does not have to be present at the race in order to win, but all raffle-ticket holders are encouraged to attend. Admission is free for non-racers.
Visit Las Vegas Harley-Davidson Today
Check out the Fat Bob and all the other awesome bikes in Las Vegas Harley-Davidson's inventory. Stop by our showroom at 5191 Las Vegas Blvd. to take a test ride, or contact us at 888-218-0744 for more information on our bikes, bike parts, apparel and riding gear, accessories, and upcoming events!