New Harley-Davidson for Sale: The 2018 H-D Sport Glide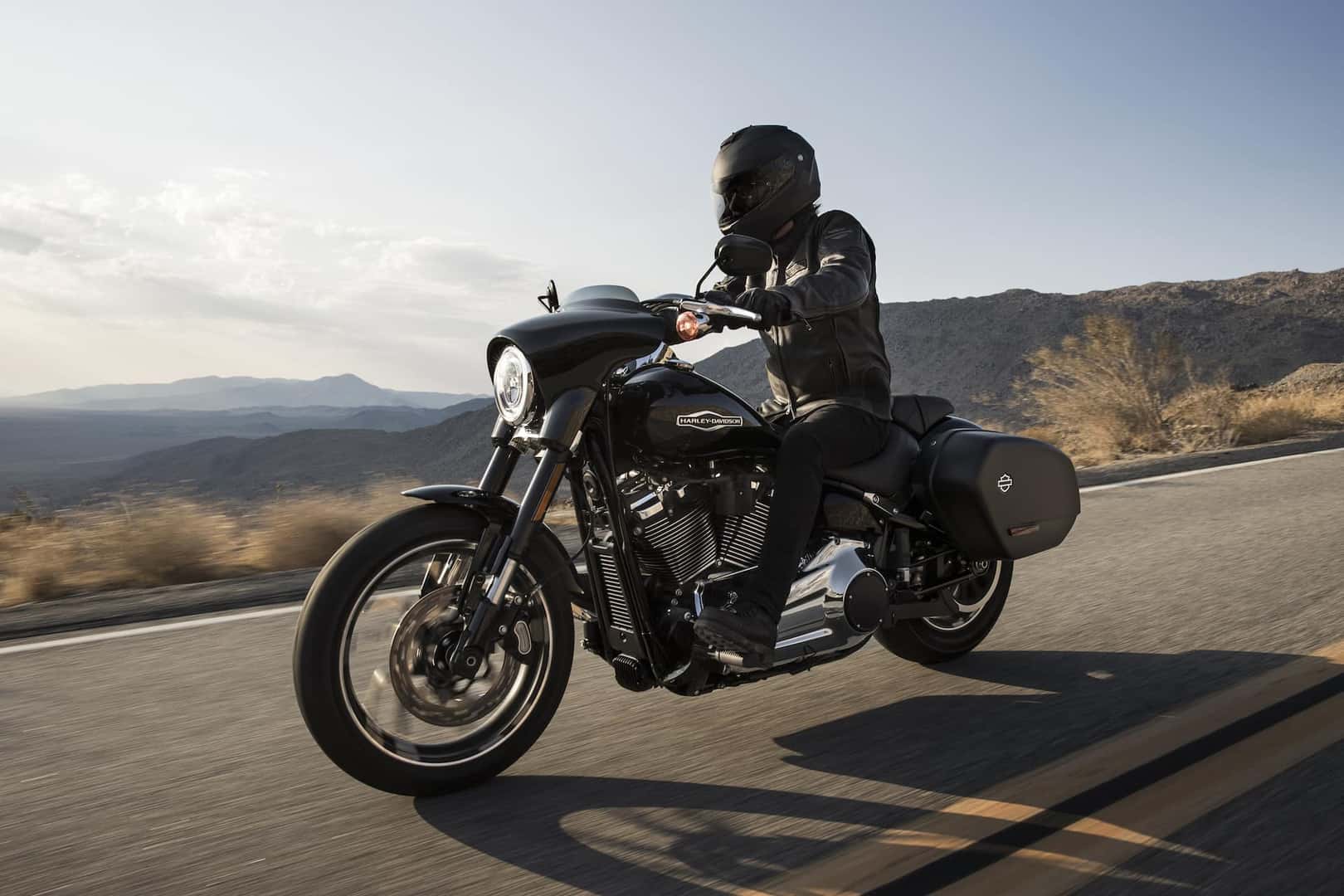 At November's prestigious 2017 EICMA Bikes and Motorbikes Exhibition in Milan, Italy, Harley-Davidson revealed its all new Sport Glide motorcycle to the public for the very first time. This is the latest version of Harley's new nine-model Softail family and is a groundbreaking model designed with younger riders in mind and built to both cruise city streets and hightail it over open roads. With distribution now underway, we couldn't be more excited to have this new Harley-Davidson for sale at our Las Vegas location.
Features of the Newest Harley-Davidson Bike for Sale
All New Suspension

The 2018 H-D Sport Glide comes with inverted forks and a new rear monoshock with external preload adjustment. While some might say inverted forks are more of a fashion statement in modern bikes, this suspension set-up enables riders to better customize their bike-handling profiles. New bike owners who often carry passengers or extra cargo will find this feature especially handy.

Natural and Comfortable Ergonomics

This new Harley-Davidson for sale features natural, comfortable ergonomics ideal for riders of all sizes. The bike boasts a handlebar position that places riders at a natural slight forward lean instead of a more vertical posture that tends to be jarring on uneven roads. The Sport Glide also comes equipped with a detachable front mini-fairing that reduces heavy wind impacts on the chest while riding, but still allows for some in-your-face air.

Includes the Highly Desirable Milwaukee-Eight 107 Engine

This powerful engine took the motorcycle world by storm when it first debuted last year. The Milwaukee-Eight 107 engine features two extra valves per cylinder over its predecessor (the Harley Twin Cam), which enable it to produce an incredible 10% more torque. But that wasn't the only thing to change. The new engine increased exhaust and intake flow capacity by 50%, increased acceleration by 10%, and improved overall fuel efficiency. As industry-favorite Cycle World reported in its first reviews of the new piece, this engine boasts a better ride quality without sacrificing that classic Harley feel that entices so many to the brand.

Strong List of Technological Features  

This new Harley Davidson for sale comes packed with a strong array of modern amenities: an LED forward-lighting system, keyless ignition, integrated security system, and keyless ignition. The front end of the 2018 Sport Glide is equipped with single-disc braking and includes ABS in case traction conditions get dicey. Another nice extra on this bike is the pair of detachable locking saddlebacks that offer riders a quick tool-free cargo option that can be easily switched in and out.
Contact Las Vegas Harley-Davidson for a Test Drive
Interested in seeing this new Harley Davidson for sale? Come down and visit us today at Las Vegas Harley-Davidson near McCarran International Airport. In addition to the 2018 Sport Glide, we're proud to have a wide selection of both new and used bikes for you to test ride! Contact us at 888-218-0744 for more information.