Motorcycle Safety Awareness
In a city where we constantly see dangerous conditions for pedestrians we can sometimes forget about the safety and well-being of our fellow riders. Today our city gets a reminder in the form of traffic signs. The signs were installed in Las Vegas as part of the O.N.E. program, a federally-recognized motorcycle awareness campaign created by Allstate Insurance Company. Its goal: to identify dangerous intersections across the country for riders and provide local, county, and state municipalities the resources to help protect those on two wheels. Working hand-in-hand with the appropriate jurisdictions, Allstate installs permanent traffic warning signs at each location and then conducts a large awareness campaign to alert the community in hopes of ultimately eliminating this preventable issue.
To date, Allstate has conducted awareness efforts in a third of the United States, installing 167 Watch for Motorcycles signs in 37 different cities across 19 states (since 2009). Las Vegas is the 38th city to be included in the effort.
Today, we installed the four newest signs of the program at the intersection of Stewart Ave. & Lamb Blvd. Las Vegas Harley-Davidson– and motorcyclists everywhere – would appreciate the assistance in alerting the public about this issue, Clark County's statistics, and what we can do to help eradicate it not only here at a popular intersection in Las Vegas, but at every intersection in the country.
We hope you'll assist us in helping to make the roads a safer place for drivers and riders alike.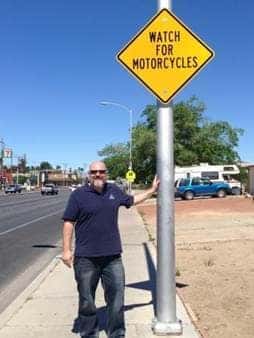 Facts:
• 5,757 motorcycle crashes documented in Clark County between December 1, 2006 and December 1, 2013
• Of these documented crashes, 218 resulted in fatalities
• In two-thirds of the fatal motorcycle crashes, Involved another vehicle
• More than half of the crashes documented occurred at intersections