Meet UNLV Cheerleaders When They Cruise Into Las Vegas Harley-Davidson on August 26th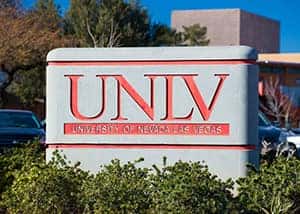 Nothing can kick up dirt like a Harley-Davidson and few groups can kick up their heels with the gusto of the University of Las Vegas cheerleaders.
So sparks are expected to fly when these two forces of nature collide on Saturday, August 26, when Las Vegas Harley-Davidson hosts the cheerleaders a meet and greet from 1 to 3 p.m. at the dealership, located at 5191 South Las Vegas Boulevard.
It's unknown whether any of the 30 girls in the squad ride a motorcycle, but an inquisitive visitor may wish to ask. These young women enjoy fielding questions as they visit Las Vegas schools and businesses in their role as public relations ambassadors for the university.
The Dealership Rolls Out the Red Carpet
While the chance to meet the UNLV cheerleaders will be the main attraction at the event, Las Vegas Harley-Davidson knows how to roll out the red carpet for all visitors and will also provide:
Complimentary hot dogs and hamburgers from 11 a.m. to 3 p.m. (or while the supplies lasts)
Be entered for a chance to win a $500 gift card with a $75 purchase
Like Harley Riders, Cheerleaders Root for "Rebels"
The UNLV cheerleaders are best known to Las Vegas residents from their front-and-center role at football and basketball games. And rain or shine, the girls can be counted on to rally fans to cheer the Rebels to victory.
The girls perform nine months out of the year, submitting themselves to a challenging workout and rehearsal sessions while maintaining a 2.0 grade-point average.
Like Harley-Davidson owners, they enjoy rigorous performance comparisons to their peers and the chance to triumph through competition. The UNLV cheerleaders regularly compete in the prestigious UDA/UCA College Cheerleading and Dance Team National Championships. In 2015, they placed seventh in the division-1A all-girl division – their highest placement ever.
We Know How to Keep Riders Cool
If asked, they also might render a suggestion or two about how to spend $75 to attain the $500 gift card. It will be drawn at 4 p.m. and the winner need not be present to claim the prize.
Las Vegas Harley-Davidson offers a full array of gear so riders can take to the road with style, including pants, jackets, gloves, helmets, goggles and boots. Some products have engendered a particularly grateful following among Harley riders who have sought relief from the blistering heat:
Hydration headwear, lined with polyscrylite crystals soaked and when in water for five minutes create an evaporative cooling effect.
Hydration vests, which rely on the same technology to keep riders cool.
Woven shirts contain UPF-30 treatment that protects against 96 percent of the sun's harmful rays.
Join the Rebel Cheerleaders at Las Vegas Harley-Davidson
On August 26th be prepared to cheer for the motorcycles and riding gear you'll find at Las Vegas Harley-Davidson while meeting the UNLV cheerleaders.