Las Vegas Harley Davidson's 1st Ladies Ride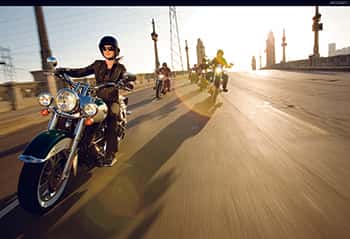 Back in 2009, Harley Davidson declared the month of May to be Women Riders month. This annual event showcases the many women who already ride the open roads as well as to encourage new female riders to get on board. Women from all walks of life can enjoy women-only gatherings to talk about the sport they love.
Bringing Women Riders to Las Vegas
To celebrate the 2017 Women Riders month, Las Vegas Harley-Davidson is proud to host its 1st Ladies' Ride, on Saturday, May 20th from 10AM to 2PM. This first ever event is being held at the Harley-Davidson dealership at 5191 South Las Vegas Boulevard.
Come out and take part in this fun event, whether you are an experienced rider or just getting into the sport of motorcycling. You can take part in the ride, learn a few safety tips and shop for the latest gear.
Taking Part
You can register early online at the Las Vegas Harley-Davidson website. You can also register on the day of the ride between 8:00AM and 9:30AM. The first 40 registered riders will receive an exclusive ride patch to commemorate the event.
The ride begins at 10AM promptly, so be ready to depart before the top of the hour. All bikes are welcome.
This event includes much more than the ride. All ride participants can take part in the Ladies' Brunch. You can also participate in in-store raffles and prizes focused on women riders.
The dealership is offering the latest in women's gear and apparel. You can take a look before or after the ride. You can also get riding safety tips to help you become a better driver.
Learn a Bit More
While you are at the dealership, you can sign up for a Harley-Davidson Riding Academy course. You can select the New Rider Course that focuses on teaching new riders how to ride a Harley. The Skilled Rider Course helps experienced riders control the road.
Now is the time to get registered for the 1st Ladies' Ride. Then, get your bike ready to ride. Polish the chrome and burnish the wheels. We look forward to seeing you and your ride.