This Las Vegas Harley-Davidson Dealer Can Teach You How to Ride a Motorcycle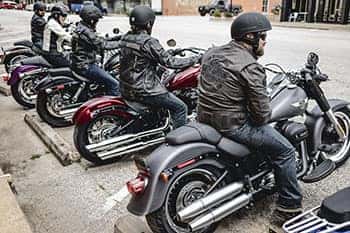 There is nothing quite like the feeling of climbing on a motorcycle and hitting the open road. It doesn't even matter where you are heading. The thrill is in the journey rather than the destination. But whether you are an eager novice or have been riding bikes for years, there are always skills and techniques you can learn to enhance your rides. That's why riding classes for both new and experienced riders are offered at your local Las Vegas Harley-Davidson dealer.
Learn the expertise from a Harley-Davidson dealer
Every rider has to start at the beginning. The Harley-Davidson® riding academy was established to help aspiring riders learn everything they need to know about riding a motorcycle. Two classes are offered to meet the needs of beginning and experienced riders. Both of these riding courses are endorsed by Harley-Davidson and taught directly from the Harley Academy handbook. You can only find this level of instruction, expertise and experienced teachers at an authorized Harley-Davidson dealer. And when you come to Las Vegas Harley-Davidson, we will provide you with specialized instruction and tips for handling your bike when riding in and out of town.
Beginning Riders Course
If you are just beginning your riding adventures, our exclusive Harley-Davidson dealer beginners riding course is perfect for you. Under the guidance of our devoted instructors, you will study in-class and on-range. You will learn basic skills for staying safe on the road, like acceleration, braking, turning, shifting, controlling skids and more. After your class, you will be ready to chase thrill and adventure on your Harley. You will receive a Motorcycle Safety Foundation Basic Rider Course Completion Card once you finish our beginners course. This card exempts you from the riding portion of the exam in Nevada and many other states when getting your license. It may also entitle you to a discount on motorcycle insurance.
Skilled Riders Course
If you're an experienced rider looking to hone your skills, our skilled riders course is for you. This 8-hour class teaches you everything you need to know to own the road and stay safe on your ride. You'll learn how to handle your bike better at low speeds, cornering and curve maneuvers, quick stops, safe swerves, limited-space maneuvers and more. When you leave the class, you will have more confidence than ever before and may even qualify for additional discounts on your insurance.
If you are interested in learning more about our motorcycle courses for beginning and skilled riders, give your local Las Vegas Harley-Davidson dealer a call at (702) 431-8500 or (888) 218-0744.