Keep Your Bike Spotless and Scratch-free With These Harley Cleaning Products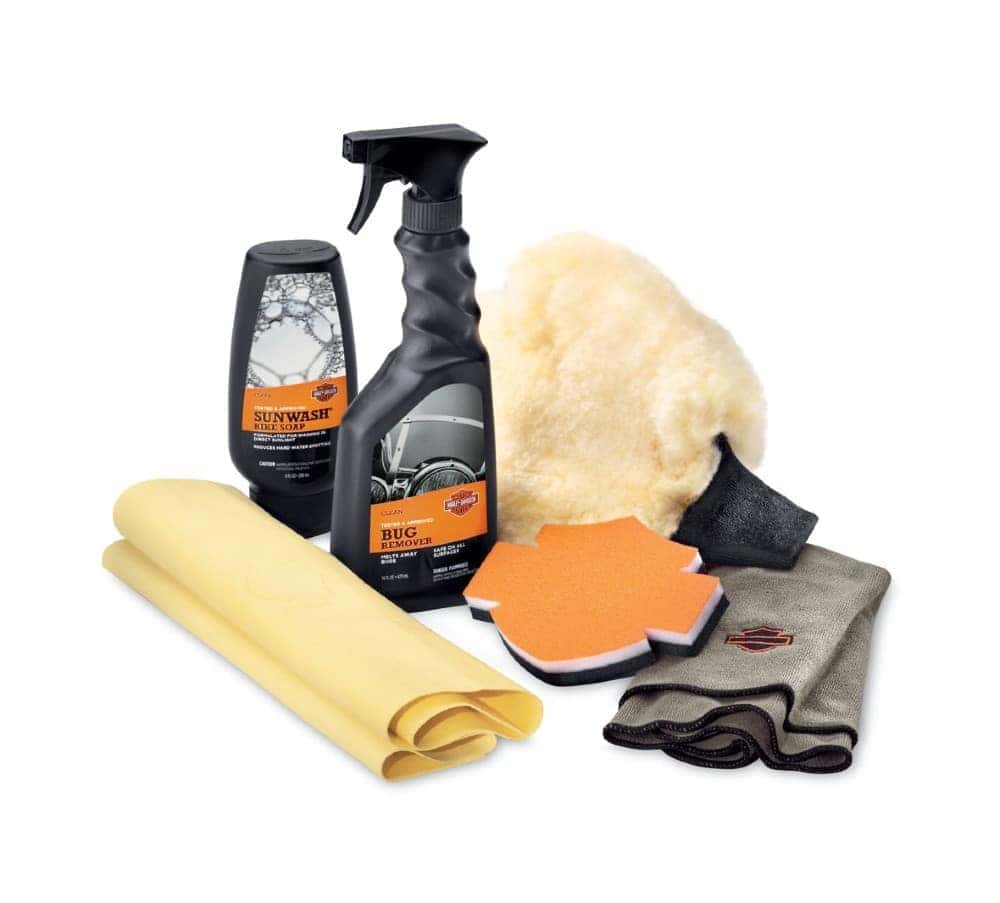 When cleaning your Harley, you have to be careful, as using the wrong cleaning products and materials can scratch, dull or even corrode your bike. Thankfully, Harley-Davidson makes it easy to keep your motorcycle shiny and clean with their specially designed Harley cleaning products. The following are a few of the essentials to have on hand:
Best Harley Cleaning Products for Your Bike
Wash Mitt
Harley-Davidson's wash mitt is made of a soft, yet durable, wool blend. It's designed to fit on either hand with an extra dense pile that provides exceptional scrubbing power. The mitt is machine-washable between uses. Its premium quality offers the perfect level of absorbency.
Bug Eater Sponge
The bug eater sponge has a textured surface to break down and remove bugs and other road grime without damaging or scratching your bike. Simply wet the double-sided sponge with water and gently scrub.
Detailing Swabs
The detailing swabs are perfectly sized to clean every crack and crevice of your bike. The strong, flexible shaft makes it easy to clean around the engine, pipes and other narrow spaces of your bike with these Q-tip-shaped cleaners, which come in packs of 50.
Sunwash Bike Soap
Most bike cleaning solutions on the market can only be used on cool days or in the shade because they'll bake onto your bike if applied in the sun. But Harley-Davidson's Sunwash Bike Soap contains a unique formula, allowing it to be used in the sun, and its sheeting action helps minimize hard water spots. In addition, it's safe to use on any vehicle surface, including denim paint.
Denim Paint Cleaner
After cleaning your bike with Sunwash Bike Soap, the Denim Paint Cleaner can be applied as a fast detailer to remove oils, fingerprints and dust. This convenient spray bottle can also be used to do a quick touch-up between cleanings. This product is compatible with all H-D motorcycle surfaces. Because this spray works without buffing, the formula protects your bike's silky matte finish.
Leather Protectant
The Leather Protectant provides waterproofing on smooth, oil-tanned leather. You can use this on your bike's leather saddlebags and tank panels, as well as your leather gear and apparel.
Cleaning Kit
Another great option is to simply pick up one of Harley-Davidson's cleaning kits. They contain all of the cleaning products you need to care for your bike. There are several options to choose from, including:
Need to pick up some of these Harley cleaning products for your bike? Stop by Las Vegas Harley-Davidson, located at 5191 S. Las Vegas Blvd.