Join Us for the 18th Annual Frosty Balls Poker Run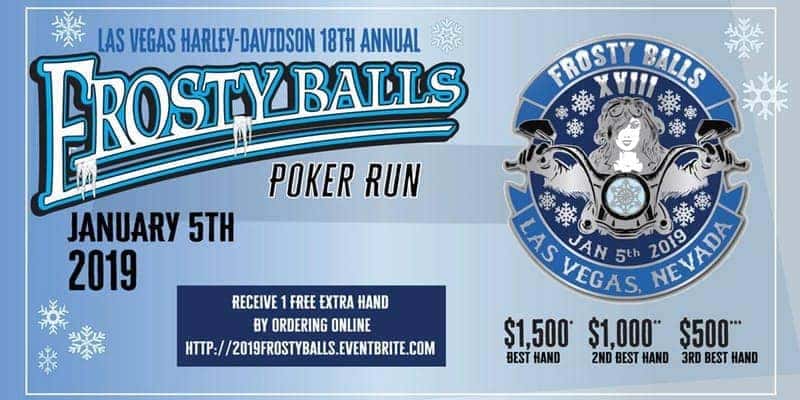 It's once again time for the annual Frosty Balls Poker Run — an event that's drawn Harley riders to Las Vegas for 18 years now. This year's event will take place on Saturday, January 5th from 8:00 a.m. to 3:00 p.m.
What Is the Frosty Balls Poker Run?
Riders will start and end at Las Vegas Harley-Davidson while venturing outside of the city during the run. Prizes will be awarded for the top three hands with a combination of cash and gift cards.
$1,500 goes to the winning hand
$1,000 goes to second place
$500 goes to third place
How Much Does It Cost to Enter?
Registration is $25 per rider. Passengers can buy in for $15 per person. Additional hands can be purchased for $10 each. The first 450 registrants will receive a commemorative Frosty Balls XVIII event pin.
How Do You Register for the Frosty Balls Poker Run?
Online registration is easy. All online pre-registrants will receive one extra poker hand, so it pays to register online. Visit the official Frosty Balls Poker Run registration site to purchase your tickets. Tickets can also be purchased the day of the event from 8:00 a.m. until 10:00 p.m.
Visit Las Vegas Harley-Davidson
Looking for great mementos to commemorate your trip? Las Vegas Harley-Davidson boasts the broadest selection of bike parts, riding gear, apparel, and accessories. Visit our showroom to check out everything we have to offer and browse our brand-new selection of 2019 motorcycles. For more information on the Frosty Balls Poker Run, call 888-218-0744 today.