In Case You Missed It: The Scoop on the 2018 Sturgis Motorcycle Rally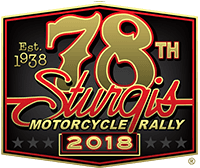 The 2018 Sturgis Motorcycle Rally marked the event's 78th year, and motorcycle aficionados were ready to celebrate the occasion. Estimates provided by the South Dakota Department of Transportation indicate that vehicle entry to the rally was up a whopping 7.9 percent, with approximately 505,969 vehicles attending the rally over its 10-day run.
Rally attendees had an assortment of exciting events and festivities to choose from, including memorable concerts, planned motorcycle rides and fun contests. In addition to all the amazing entertainment options, a number of vendors were also on-site, selling everything from bike-themed memorabilia to mouth-watering food.
The rally's opening day was August 3rd. To celebrate the start of Sturgis, retired Sergeant First Class Dana Bowman completed multiple parachute jumps and provided attendees with an inspiring message.
The Ride with a Local motorcycle ride served as a great intro for first-time Sturgis attendees and those ready to visit or re-visit some of Black Hill's most memorable sites. Pop Evil, Loaded Dice, Them Vibes, and Dirty Word were just a few of the rocking musical acts playing across the rally's multiple music venues.
Rally attendees were sure to satisfy their appetites thanks to the Street Food Throw Down festival. This event lasted from August 3rd through August 5th, ensuring attendees had numerous chances to sample everything from burgers and wings to burritos and BBQ.
On August 4th, attendees had the opportunity to engage in a little friendly competition thanks to the Legendary Sturgis 5k Run/Walk and the inaugural Mayor's Charity Poker Tournament. Easy-going contests continued throughout the rally, including such events as the Sturgis Burger Battle, a tattoo contest and a beard and mustache competition. For attendees lacking facial hair, the Mayor's Pub Crawl offered a great way to experience some of the area's most iconic bars and beverages.
Sadly, all good things must eventually come to an end. August 12th marked the last day of the 78th annual Sturgis Motorcycle Rally. Performances by Chevelle, the Insane Clown Posse and Tech N9ne ended the rally on a rocking note. Attendees left with memories of tasty fare, fun parties, great music, and unforgettable motorcycle rides.
If Sturgis sounds like it's right up your alley, check out all of our upcoming motorcycle events around Las Vegas. Connect with us to stay up to date on all the latest Harley news and events, and to learn more about our extensive inventory.