History of Harley-Davidson
Have you ever wondered how Harley-Davidson bikes became the American icons they are today? The story began in a small shed in Milwaukee back in the early 1900s.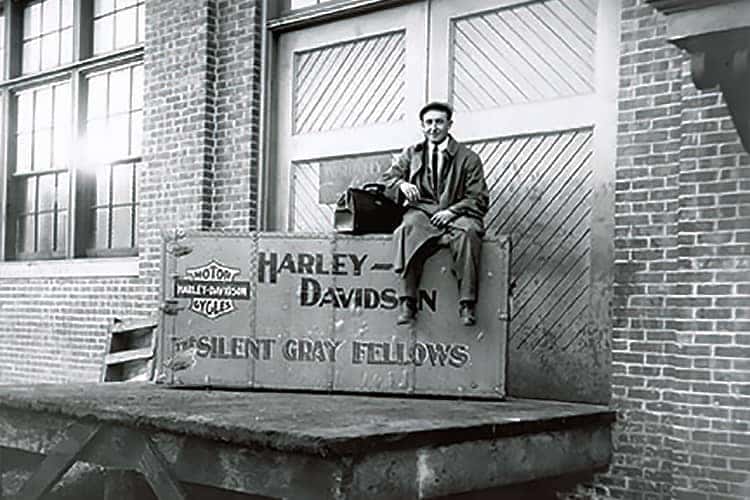 After drawing up plans for a small engine designed to fit on a regular bike frame, William S. Harley worked with Arthur and Walter Davidson to build this "motor-bicycle." They finished the first model in 1903. While the test was mostly successful, the bike was unable to climb hills without the rider providing pedaling assistance.
But Harley and the Davidson brothers did not give up. They immediately began working on a new and improved machine. They created a bigger engine and loop-frame design. After completing the prototype in 1904, they entered the bike into a local motorcycle race at the State Fair Park, where it placed fourth.
Now that they had a working model, bare Harley-Davidson engines were listed in the January 1905 Automobile and Cycle Trade Journal. Just four months later, the motorcycles were in production. That first year, five bikes were produced – three of which were sold by the first Harley-Davidson dealer, Carl H. Lang of Chicago.
By 1906, Harley and the Davidson brothers were moving out of their shed and into their first factory, which was located at the current site of Harley-Davidson headquarters. They produced 50 motorcycles during their first year in the factory – ten times more than the year before.
Within one year of building their first factory, they were already preparing to expand it with a second floor. In September, Harley-Davidson officially incorporated. They produced 150 motorcycles in 1907 and began selling them to police departments.
The company continued to grow and improve year after year. New features and designs were constantly being introduced. The factory was expanded several times to keep up with the ever-growing demand for Harley-Davidson motorcycles.
Harley-Davidson has played an important role in American history as well. The company produced over 20,000 motorcycles for the US military during World War I. And as one of only two American motorcycle companies to survive the Great Depression, Harley-Davidson also played an important part in World War II. The company produced over 90,000 motorcycles for use in the war. Harley-Davidson was awarded two Army-Navy "E" Awards for Excellence in Production, in honor of their efforts during the war.
Over 115 years, Harley-Davidson has grown from its humble beginnings to an American icon. But no matter how many things have changed over the years, one thing has always remained the same – Harley-Davidson's commitment to producing a high quality, innovative bike.
Get Your Next Harley at Las Vegas Harley-Davidson
See for yourself just how far these bikes have come. Stop by the Las Vegas Harley-Davidson showroom to check out the latest makes and models, and even take one for a test ride. For more information, contact us at 888-218-0744 today.