Harley Street Rod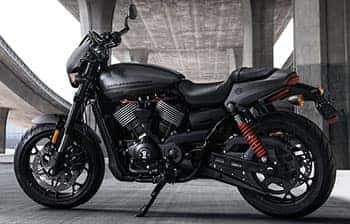 As a kid, you may have been warned about playing in the street.
If you still feel the same draw to the street as an adult, then Harley-Davidson is counting on the its new Street Rod™ to be the motorcycle for you.
Aimed at urban dwellers, the sporty and aggressive Street Rod™ is built to navigate stop-and-go traffic with racing precision while turning heads with its "raw, authentic bad-ass" styling.
"We are reaching a customer who maybe had a fondness for Harley-Davidson but may not have found the bike in our lineup to meet their needs," said Jeff Strunk, of Harley-Davidson's product planning department. They are "primarily a younger crowd, frequently folks living in a more urban environment, looking for a way to get around in a more exciting way."
Size Up Street Rod™ at Your Las Vegas Motorcycle Rental Center
Several standout features ought to make that statement abundantly clear; especially to Harley-Davidson novices or those who have taken note of Harley riders on open country roads:
The "sit forward" stance, which Street Rod™ engineers say is meant to balance a rider's center of gravity while improving handling. Reviewers at Cycle World say they succeeded: "Taller suspension and larger diameter wheels result in a 30.1-inch seat height, which, coupled with the flatter bars (with bar-end mirrors) and footpegs moved about 3 inches rearward, result in a 'fist to the wind' riding posture you won't find on any other current Harley-Davidson."
A High-Output Revolution X™ engine "can rocket from stoplight to redline at 9,000 rpm." Of course, that's a little fast even if you're running late for work. And chief engineer Mathew Weber says it's about twice as much power as urban riders need day-to-day. "It really delivers a punch between 3,000 and 5,000 rpm, power you can always feel and use in real-world riding situations. Liquid cooling helps maintain that performance and rider comfort in stop-and-go urban traffic," he said.
Such a favorable price point that prospective buyers at their favorite Las Vegas motorcycle rental center are doing double-takes. Says Cycle World: "Unlike some of Harley's past efforts in this space, the Street Rod is a value-heavy proposition."
See the Street at Your Las Vegas Motorcycle Rental Center
That backhanded compliment is an apparent reference to the Street 750, an earlier iteration that Harley-Davidson produced in 2006-07. Street Rod™ is built on the same platform, but the similarities mostly end there. The frame and fuel tank are the only shared parts and even the tank was repositioned (farther forward) on Street Rod™ to accommodate its forward-leaned stance.
"It's like a Street, but starting from the front, it's got a new tire, wheel, brake, fork, fender, triple clamp, headlight, fairing, etc., etc., etc.," quipped engineer Brian Dondlinger.
While the Street 750 served as visual inspiration, customer insights also guided the design teams, said Frank Savage, who in turn guided lead designer Chetan Shedjale.
"At the heart of it was a raw, authentic bad-ass Street Rod for the city," Savage said. "When we were doing the ideation for the model, we called it a Street on steroids."
Visit Las Vegas Harley-Davidson to see Street Rod™ for yourself – but only if you're eager to once again play in the street.