Harley Service, Maintenance and Customization Offered by LVHD
The love of a Harley-Davidson goes deep. The rumble of the engine. The shine of the chrome. The sheer exhilaration you experience out on the road. Keeping your Harley in good condition means you need the best service and parts available. And you will get that here at Las Vegas Harley-Davidson.
Maintenance on Time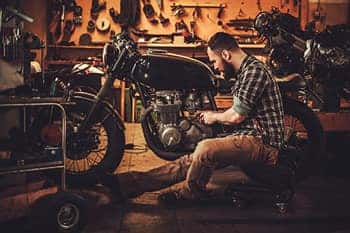 Proper maintenance is essential for your Harley. Following the prescribed Harley-Davidson maintenance schedule will keep this high-performance machine in perfect working order. We follow the maintenance guide to ensure your bike is properly tuned and operating at its peak performance, even after a lot of use.
Our technicians are fully trained on how to maintain all Harleys, and we use only genuine Harley-Davidson parts. We back our work with a 100% guarantee.
Service When Needed
Even with the best maintenance, your Harley may need an occasional repair. Our technicians are ready to help.
We can diagnose the problem and get the repairs underway. We carry a full stock of Harley-Davidson parts to make most repairs quickly. Even if we have to bring in a part from a supplier, you know it will be 100% Harley and the work will be done right the first time.
Customize the Bike Your Way
Keeping your bike running smooth is only one part of owning a Harley-Davidson. The best part is making the bike your own. Now, a Harley off the showroom floor is a sight to behold. But, changing out a few parts here and there can bring forward your own unique creation.
We offer a full line of accessories and replacement parts to allow you to customize your bike. Do you want a custom audio system? We've got you covered. Want to upgrade your bags and racks? Just let us know what you want to do. Desire a different sound from your exhaust? We can help you get the right tune. Want to go all out and give your Harley a custom paint job? You pick the colors, finishes, striping and trim, and we can make it happen.
Let Las Vegas Harley-Davidson Help You Get the Performance You Want
Do you want an extra bit of power output and performance from your ride? We have a Dyno on site that will allow you to work with one of our technicians to make mods to how your bike performs. Simple performance modifications can transform even the oldest Harleys into the power machines their owners love.
When you need repairs, maintenance, customization or performance upgrades, visit us here at Las Vegas Harley-Davidson. Our team of certified H-D technicians will take care of your motorcycle like it was their own. Give us a call at 702-431-8500 to make an appointment.