Happy 115th Birthday, Harley-Davidson
Over a century ago, William S. Harley and Arthur Davidson set out to bring speed and stealth to the world in ways no one had ever seen before. Here we are, 115 years later, and the Harley-Davidson brand is one of the most recognizable names in the world.
At Harley-Davidson Las Vegas, we're proud to say we're the best Harley dealership in Las Vegas and we can't wait to celebrate another birthday.
Avid Harley lovers everywhere are gearing up to celebrate the big birthday in style, suiting up in the newest MotorClothes apparel and riding gear while upgrading their bikes with custom accessories that speak to their specific styles.
Celebrating the Past, Looking To the Future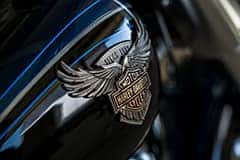 Loyal Harley customers the world over look to the brand for its made-in-America quality and its leaders have no plans to change that.
This customer-centric company is very intentional about its approaches and strategies. Harley executives recently revealed details of a ten-year plan, including the following:
Bringing the brand to 2 million new riders in the United States
Launching 100 "high-impact" motorcycles
Providing return on invested capital in the top quartile of the S&P 500
Focusing on maintaining or increasing production without increasing the company's impact on the environment
What You Can Look Forward To
The company will be releasing some special models in the coming months that will certainly make heads turn, including two Harley-Davidson 115th Anniversary Limited-edition styles, each of which will be available on five motorcycle models and will feature the serial numbers on the bikes' trims. Both options will feature perforated seats with blue stitching and have HDMC embossed on the seat.
1. 115th Anniversary Two-Tone Limited Edition Scheme
This scheme will be available on the following models:
CVO Limited
Tri-Glide
Ultra Limited
Heritage Classic 114
The two-tone style will feature:
Legend Blue and Vivid Black two-tone paint
Triple pinstripe detailing
115th-Anniversary multi-metal cloisonné, which will feature an eagle holding the H-D Bar and Shield graphic in its talons on the gas tank
115th-Anniversary script on the console, timer cover, and air cleaner
2. 115th Anniversary Denim Edition
This option will be available on:
Street Glide
Street Glide Special
Breakout 144
Forty-Eight
It will feature:
Legend Blue Denim paint
115th-anniversary tattoo-inspired graphic of an eagle holding the Bar and Shield
Harley-Davidson script (varies by model)
What's Special About The Fat Bob 114?
The Fat Bob 114 will be the only model available in both anniversary styling schemes. We can't wait to lay our eyes on a Limited-Edition Fat Bob 114!
No 115th birthday celebration is complete without the right gear. Stop by Las Vegas Harley-Davidson so you can deck out your bike, body, and bedroom with all things Harley.