Give the Gift of a Rider's Course from Your Harley-Davidson Dealer

The holidays are just around the corner and we're stocking up on our inventory here at your Las Vegas Harley-Davidson dealer. Looking for a unique Harley themed present? Our Harley-Davidson Riding Academy Courses are the perfect think-out-of-the-box present for seasoned and beginner riders alike.
Reasons a Rider's Course from Your Harley-Davidson Dealer Is the Perfect Gift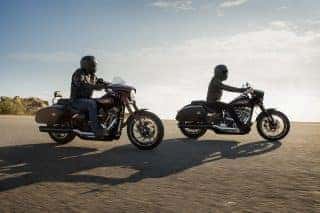 Exchange an Item for an Experience
Sometimes the intangible gifts are the most valuable. Our rider's courses allow you to give the gift of an experience, not just an item. This fun and informative experience will create memories of greater value than a physical gift.
Great for Veteran and Amateur Riders
We offer courses for all types of riders. Our Skilled Rider Course helps experienced riders become even better at the thing they love doing the most. With low-speed control training, curve maneuverability, and risk-management on the table, this course brings Hog lovers together in an environment that will make every rev of the engine even more irresistible. For the less experienced rider, our New Rider Course provides training on basic Harley functions, proper operation and safe riding.
Appeal to Group and Solo Riders
Our courses are great gifts for lone wolves and pack riders alike. You can give it to an individual as a solo gift, or give a few of them to the riders in your circle and make a group gift out of it. Whatever your need, we've got options to accommodate.
At Las Vegas Harley-Davidson, we not only offer the best Harleys in town, but also unique gifts that lead the way to incredible experiences, making us the leading Harley-Davidson dealer in Las Vegas. Contact us at 888-218-0744 to learn more about our H-D Rider's Courses today!