Gear Spotlight: Harley-Davidson Cooling Vest
Want to know the secret to staying cool in the Las Vegas heat? The Harley-Davidson Cooling Vests are specifically designed to keep you comfortable and cool. They're made by riders, for riders.
How Do Harley-Davidson Cooling Vests Work?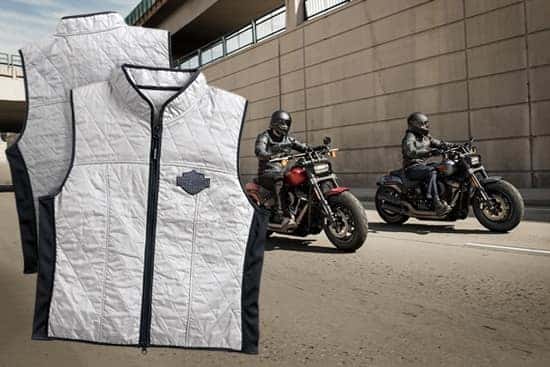 Harley-Davidson Cooling Vests feature a 100% nylon body. But the magic happens in the high tech, HyperKewl poly-acrylic crystals found on the inside. These crystals are able to absorb water and slowly let it evaporate. This vest provides cooling relief to the back of your neck and core for 2 to 3 hours, depending on your riding conditions. You'll feel up to 12 degrees cooler than the outdoor temperature. This effect works best in hot, dry climates like Las Vegas.
To use the Cooling Vest, simply soak it in water for 1 to 2 minutes. Remove the vest and gently squeeze out the excess water. Be careful not to wring the vest, as this may damage it. The vest is easy to put on thanks to the zipper front, and the elastic back waist and stretch mesh side panels provide a close fit, allowing you to comfortably wear the vest underneath your riding gear. The vest can be soaked to reactivate the cooling effect up to 100 times.
The Harley-Davidson Cooling Vest should be worn underneath well-ventilated riding gear. Many riders like to wear it underneath a mesh jacket. To maximize the duration of the cooling effect, try wearing it under a windbreaker with open arm holes and ventilation. This offers protection from being dried out by the wind, while also allowing the air flow necessary to assist with the evaporation process.
Available Options
The Harley-Davidson Cooling Vest is available in both men's and women's styles and both versions have a 5-star customer rating. The men's version is available in sizes S to XL for $60 and 2XL to 5XL for $70. The vest is gray with black color blocking on the contrasting side panels and trim. The women's version comes in the color porcelain rose. It features accents and trim in white. The vest is $60 for regular sizes XS to 2XL and $75 for plus sizes 1W to 3W.
Harley-Davidson also offers a Men's Dual Cool Cooling Vest and Cooling Kit for $199. It comes in sizes S to 3XL. Reusable cool packs offer you even more ways to stay cool this summer. These packs can easily be inserted into the vest's four interior pockets. They are good for up to 1,000 uses. The kit also comes with a thermal tote bag for keeping the packs cold during your ride.
At Las Vegas Harley-Davidson, we carry a selection of Harley-Davidson Cooling Vests and other essential riding gear in our showroom and online shop. Stop by to check them out today or contact us at 888-218-0744 for more information! We are open Monday – Friday from 8 am to 9 pm and Saturday – Sunday from 8 am to 7 pm.