FXRG® – New Harley Riding Apparel
Harley-Davidson products are designed by riders for riders. Once again, the best in innovative technologies and versatile, road-tested designs combine to create superior functionality and comfort along with head-turning style in the new FXRG® apparel collection.
Features of the New FXRG® Collection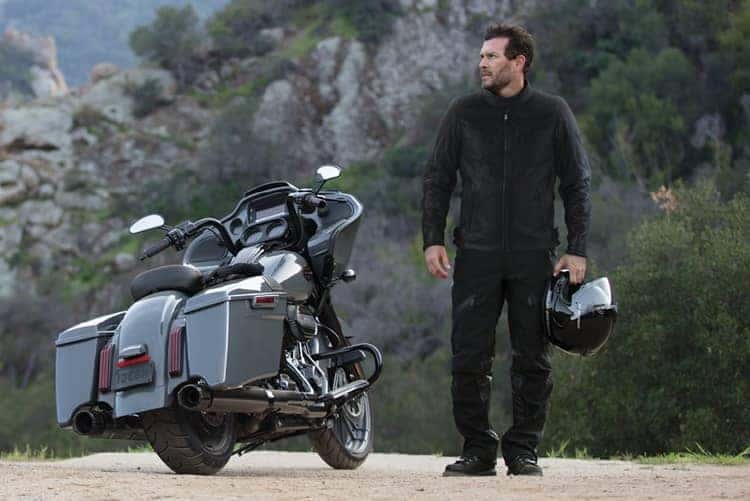 Adjustable and Removable Layer Systems
Harley-Davidson builds on its unique layering system in this latest clothing line by focusing on breathability, moisture control and temperature regulation, with a range of adjustable and removable layers for jackets and pants.
Beyond built-in vent systems, which allow you to expand a jacket to expel hot air, many of the latest FXRG® jackets – including new men's textile Slim Fit and leather Gratify Slim Fit jackets – feature Coolcore liners to wick away moisture and regulate evaporation. The Gratify Slim Fit also features extra temperature regulation by releasing body heat through perforations.
But what about when the temperature drops? Layers are the best strategy when dealing with temperature changes. FXRG® Base Layers for men and women contain a special blend of nylon and polypropylene to wick away moisture when it's hot outside, as well as retain heat when it's cold. Base Layers feature special channels for cooling, and extra padding in key spots to provide greater warmth, when needed.
These designs also reduce body odors associated with sweating and overheating via Skin NODOR® technology, which inhibits bacterial growth and sweat under the arms and at the lower back. For the coldest rides, several additional liner options exist, including the FXRG® Thinsulate™ Mid-Layer constructed with 3M™ Thinsulate™ insulation technology, a high neck collar and extended cuff thumbholes to provide the warmest, lightweight experience whether you wear it under a jacket or standalone.
Water Resistance and Protection
Several FXRG® jackets and pants provide water resistance and protection for long-distance rides through wet regions and locations where the weather is prone to change rapidly. FXRG® Triple Vent System Waterproof Leather jackets for men and women offer seam-sealed, breathable waterproof liners, waterproof pockets and zippers and internal storm flaps. When worn with FXRG® Waterproof Overpants for men or women, you can set your own pace rather than risk an accident trying to flee a storm. Designed with lightweight and stretchable materials to fit comfortably over jeans, Waterproof Overpants repel rain while providing thigh vents and waterproof heat shields to maintain optimal body temperature and protection.
Why Pick Any Other Brand?
Harley-Davidson knows what riders need and want in riding apparel. Body armor and abrasion-resistant materials and products like men's and women's FXRG® abrasion-resistant, double-stitch-reinforced Armalith®denim jeans guarantee the highest possible levels of protection. Extra pockets ensure you always have room to carry more than what you stow in saddlebags, especially items you need to access quickly. Stretch panels and color schemes in glossy black and shades of gray provide you with a sleek, custom fit, so you always look your best.
Our new apparel gives you everything you need to stay comfortable and protected from whatever Mother Nature throws at you. To learn more about the 2019 FXRG® collection, contact us at 888-218-0744 today!