Exciting New Features on 2019 Harley-Davidson Touring and Trike Models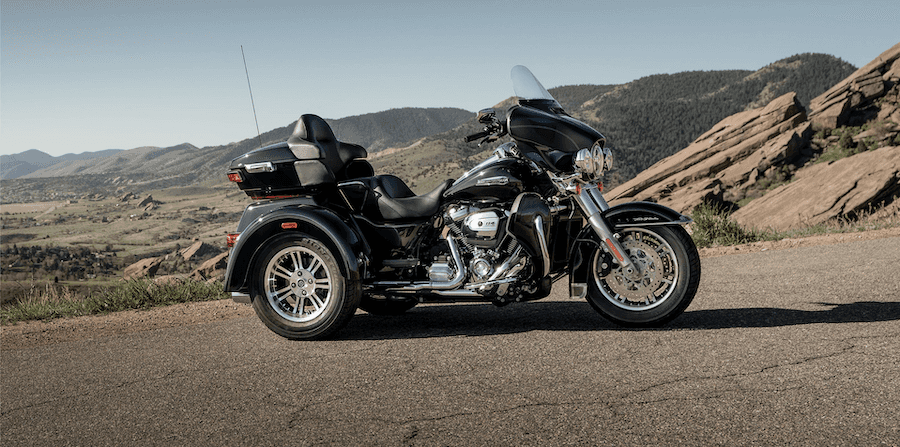 The all new 2019 Harley-Davidson Touring and Trike motorcycles are finally here! This exciting lineup includes:
Ultra Limited (Touring)
Ultra Limited Low (Touring)
Road Glide® Ultra (Touring)
Road King® Special (Touring)
Road Glide® Special (Touring)
Street Glide® Special (Touring)
Freewheeler® (Trike)
Tri Glide® Ultra (Trike)
These eight bikes feature technological advancements that elevate performance, function and style. Take a look at a few of the most exciting enhancements that are new for Harley-Davidson 2019 models.
More Power Than Ever Before
Harley-Davidson's Touring and Trike bikes have always been designed to go the distance, but now they have more power to help you conquer any adventure. Select 2019 Touring models now come with the Milwaukee-Eight 114 engine. That's 114 cubic inches of passing and horizon-chasing power! The 114 delivers up to 5% more torque and 0 to 60 acceleration than the 107. This added power significantly increases the bike's ability to accelerate quickly, especially when it's loaded with an extra passenger or heavy cargo.
New Infotainment System
The new Boom!™ Box GTS infotainment system is available on select 2019 Touring and Trike models. It combines the functionality of a smart phone or tablet with the durability and additional features you require on the road.
The Boom!™ Box GTS can play music from AM/FM radio, WB, XM, Bluetooth streaming, or Digital Mass Storage. The 6.5-inch Corning Gorilla Glass display is designed to be scratch resistant, highly visible even in bright sunlight, and usable in wet or dry conditions. In addition to the touchscreen, the system can also be operated using the thumb five-way joysticks on the left and right hand controls.
The Boom!™ Box GTS system is Apple CarPlay compatible. It can easily be used to check the weather and traffic. It is also compatible with the Harley-Davidson app for Android and iOS, which can be used for ride planning, finding points of interest, and navigation.
Reflex Linked Brake System
The Reflex Linked Brake system on 2019 models is now fully electronic. It provides enhanced traction, stability and braking control for improved handling in just about any situation. The Reflex Linked Brake System activates any time the bike is traveling over about 4.3 mph. It connects the front brake hand level and rear brake foot pedal electronically to improve braking power. The system remains active for as long as the rider continues to brake.
A Smoother Ride
The 2019 Trikes feature new, premium front and rear suspensions that are specifically calibrated for these models. This allows for a much smoother ride, as well as better handling and braking performance. Riders can adjust the rear suspension using a knob below the seat to customize the bike to their preferences and needs.
Check Out All the Harley-Davidson 2019 Models
Want to learn more about the all new Harley-Davidson 2019 models and their features? Contact Las Vegas Harley-Davidson today at 888-218-0744, or stop by our showroom, located at 5191 S Las Vegas Blvd.