Don't Miss This Special Harley Financing Offer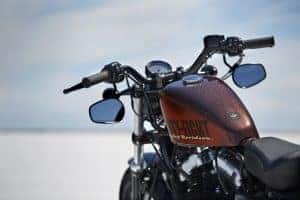 What can be better than getting a great deal on one of the sportiest offerings in the Harley-Davidson lineup – and one that is celebrating its 60th anniversary? Sweeten the deal with $0 down and a low, annual financing rate.
If you don't have a Harley-Davidson now, you'll want to strap yourself into the second-fastest vehicle you own and zip over to the premier Harley dealership in Nevada: Las Vegas Harley-Davidson. This offer only lasts until July 31.
Harley Financing Offer Applies to the Sportster®
This special Harley financing offer applies to:
2017 Harley-Davidson Sportster® models
New 2016, 2015 or 2014 Sportster® models that are untitled
The Fine Print Will Surprise You – In a Good Way
So what is meant by "low annual financing rate"? Undoubtedly, one of the most competitive rates around. This special includes:
An annual percentage rate of 5.99 percent, subject to credit approval.
A term of up to six years.
The usual financing rules apply to this offer: customers are responsible for paying the applicable taxes, title charges, licensing fees and any other relevant charges that surface at the time of sale.
The experienced sales team at Las Vegas Harley-Davidson will ensure this offer proceeds smoothly and efficiently.
Sportster® is a Longtime Sentimental Favorite
If you've done your homework, then you already know the Sportster® holds a nostalgic place in the hearts of many motorcycle owners. Introduced in 1957, it is the longest continuously produced motorcycle in the Harley-Davidson family.
As British and Japanese bikes were flooding the U.S. market, Harley-Davidson responding by raising the stakes with the Sportster®, which replaced the Harley K flatbed motorcycle. A year later, the Sportster® XLH was introduced, which featured larger valves and higher compression while remaining true to the Sportster's® styling. This introduction started a long progression of Sportster® upgrades – a bike that steadily improves as it ages.
Until 2007, the Sportster® was easily recognized on the road (even by novices) for its distinctive fuel tank, which resembled the shape of a peanut. This was the year the Sportster® was equipped with Harley-Davidson's electronic port fuel injection system, which replaced the carburetor.
The Sportster® is powered by a rubber-mounted 883cc or 1200cc V-twin engine, mounted in a light frame that contributes to the bike's easy maneuverability.
Harley Financing Offer Sweetens an Already Alluring Bike
People who have cast a long and wishful eye on motorcycles but have been nervous about taking the plunge have long gravitated to the Sportster®. Its low stance and easy handling make it ideal for first-time bike owners. Its affordable sticker price is another strong lure. Now, with the 60th anniversary Harley financing offer, the Sportster® could be absolutely irresistible.
Stop by Las Vegas Harley-Davidson or call 702-431-8500 to make an appointment so you can step right to the front of the line – and right on board the Sportster® of your dreams.