Create Your Memorable Collection of Harley Chips
Few companies have a tradition as rich as Harley-Davidson. As a popular, all-American bike manufacturer, Harley-Davidson uses the power of its brand to create collectibles for souvenirs or trading with fellow riders. Along with our t-shirts, jackets, pins, and other Harley-Davidson items, we also sell poker chips – and they've become quite popular. People are racing to collect them, so they can frame them, trade with others or use them to win competitive games of Texas Hold 'Em.
Why Poker Chips?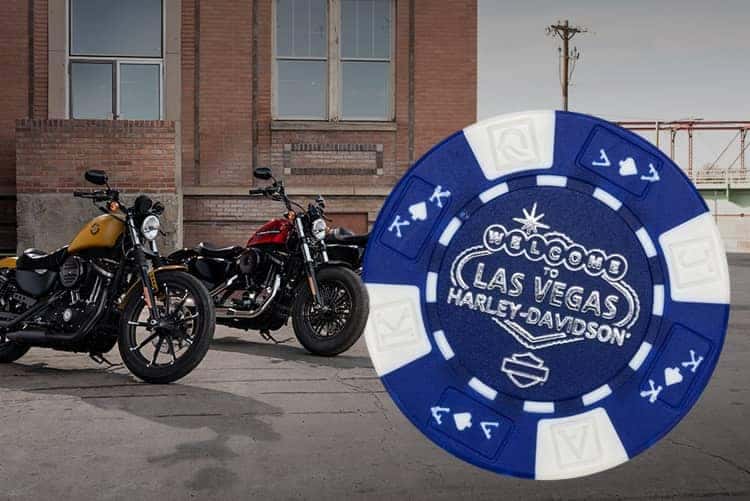 Each Harley chip is specially designed to reflect the H-D brand. Each chip comes with the Harley logo embossed on the front, and the Bar and Shield on the opposite side. There are also multiple color options to choose from.
Many people collect and frame these poker chips in custom-made Harley frames. Some also ride with them to show off at rallies and meets around the world. And, if a game of poker is in the works, you will look like the ultimate Harley rider with these chips in your pocket.
Collecting Harley chips is fun. Riders have turned this practice into a hobby, keeping track of where they collected each chip. By tying a location to each chip in your collection, you can recreate your riding journeys and memories over the years.
Where to Get Poker Chips
Finding poker chips is part of the adventure of collecting them. While you can buy chips online, enthusiastic riders like to make the process more adventurous.
Some riders collect chips from every new Harley dealership they visit. Each chip they collect represents a particular adventure they went on to get it. In this way, riders plan for trips around the country to visit various Harley dealerships as they expand their collection. Some target the oldest dealerships in their state or even in the entire country. Riders also like to trade chips with other collectors/riders.
Get Your First Harley Chip Today
Collecting Harley chips makes for fun, memorable experiences for riders. If you're ready to start your collection, stop by Las Vegas Harley-Davidson to get your first chip, or purchase one from our online store.