10 Interesting Facts About Harleys for Sale in Las Vegas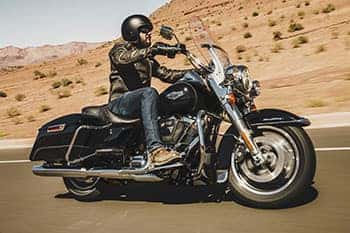 For more than 100 years, Harley Davidson has had a major presence in the motorcycle industry. Today, everyone knows what a Harley is. But hidden in the company's rich history are lots of interesting facts and tidbits.
That's why we love offering Harleys for sale in Las Vegas at Las Vegas Harley-Davidson. We know the deep backstory that comes with each and every bike we sell. Here are a few of our favorite things that you probably didn't know about Harley-Davidson motorcycles.
The three Davidson brothers and their friend Harley set up their first shop inside of a Milwaukee factory back in 1906. That year they manufactured 50 motorcycles. Business boomed very quickly. Just 7 years later, they produced more than 16,000 bikes at the factory and were quickly becoming the leader in motorcycle racing. The original factory is still standing in Milwaukee, Wisconsin and serves as home for the corporation.
In 1914, Harley-Davidson released the first sidecar for their bikes.
Janet Davidson is said to have been the first woman to ever ride on a Harley. In many ways, this claims makes sense. She was the Davidson brothers' aunt and helped out at the factory with the painting and pin striping. There is no question she spent a lot of time around the bikes. However, there is a bit of controversy surrounding the story, since it is possible the motor was never turned on with her on it. Regardless of whether or not she went for a ride outside of the factory, Janet Davidson, at minimum, holds the title of being the first woman to sit on a Harley.
A tomato can served as the carburetor on the very first Harley-Davidson motorcycle.
You probably know that motorcycles are called "hogs," but did you know this nickname originated from Harley-Davidson? Back in 1920, the mascot of the Harley-Davidson racing team was a pig. Any time they won a race, the driver would take a victory lap around the track with the pig riding on the gas tank.
The company's iconic logo was originally patented in 1911.
The first Harley-Davidson motorcycle was built onto a bicycle frame. In fact, it still had the pedals on it. It was powered by a tiny 116 cc engine.
Despite the large number of models and variations that have come out through the years, most bikes can be divided among 5 categories – Sportsters, Dynas, Softails, Revolution, and Touring models.
Harley-Davidson produced a large number of bikes for the military in World Wars 1 and 2. The US Army and Navy later awarded the company with "E awards" for their excellence in production during this critical time.
A Harley-Davidson XR1200 was used to break the world record for long distance motorcycle jumps in 2010. The bike jumped an amazing 183.7 feet.
At Las Vegas Harley-Davidson, we have a large selection of Harleys for sale in Las Vegas, with new 2017 year models arriving daily. We invite you to visit our showroom to view and test drive any of our Harleys for sale in Las Vegas.